The STE Rate group is selected for a specific organisation within the organisation Event Settings.
The STE Rate Group displays the Pay and Charge Rates for each role per shift pattern defined in the timetable.
You can also select the Bank Holidays that apply to the specified group using the Set Bank Holidays button.
The Pay Rate applies to what you as the company are paying the individual employee and the Charge rate applies to the client organisation.

You can alter the pay and charge rates for the various roles by changing the rate in the relevant cell. 
There can also be an additional column depending on your company settings:
Charge Rate Block Booker allows you to set a specific rate for the Employees that are marked as Block Booker – working often for the organisation.
Pay Rate Self Employed allowing you to set a specific rate for the Employees that are of type Consultants.
You can Add more roles with the green button at the end of the page.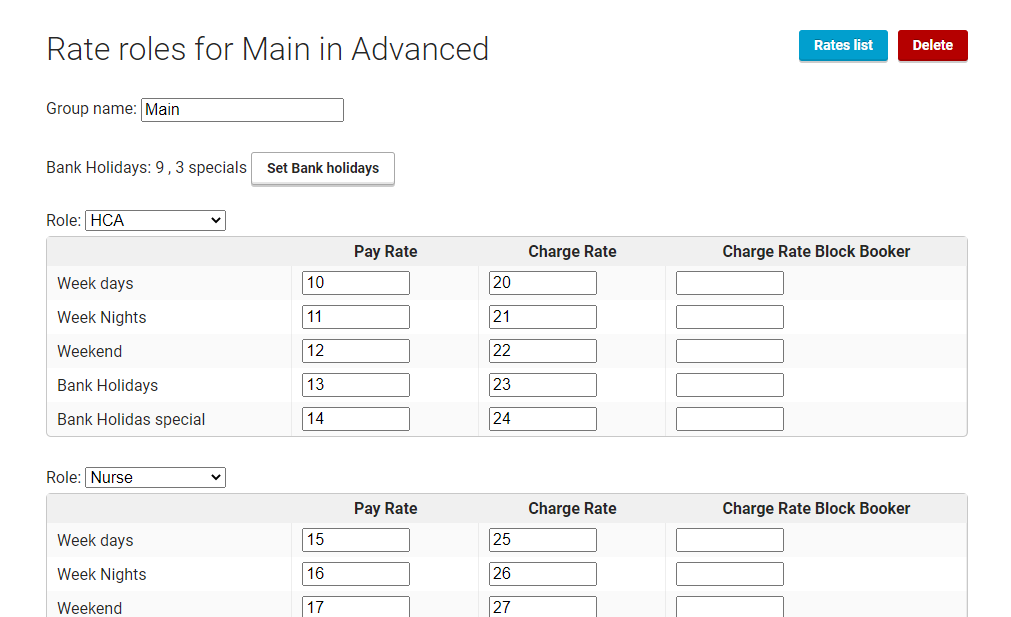 When you select Set Bank Holidays pressing this button you will be brought to an Assign Bank Holidays lightbox where you can simply drag and drop the selected days as appropriate.

When you choose a certain Bank Holiday, YouRecruit will automatically apply this date for the subsequent years. There is also a Show Bank Holidays List Button where you can view all of the current and subsequent year bank holidays dates.
The special bank holidays column will appear only if you select the special bank holiday type in the relevant timetable settings.

YouRecruit also gives you the additional days following the bank holiday as an option to be applied as a bank holiday substitute in case that the bank holiday is within the weekend. In simple terms, if the 25th and 26th December is a Saturday and Sunday, you can decide that the 27th (Monday) and 28th (Tuesday) will be applied as Bank holidays as well when dragging in the "Christmas Day Substitute" and "Boxing Day Substitute".