Integrations
YouRecruit has integrated with many third party services. Learn how we can help your applications communicate with each other.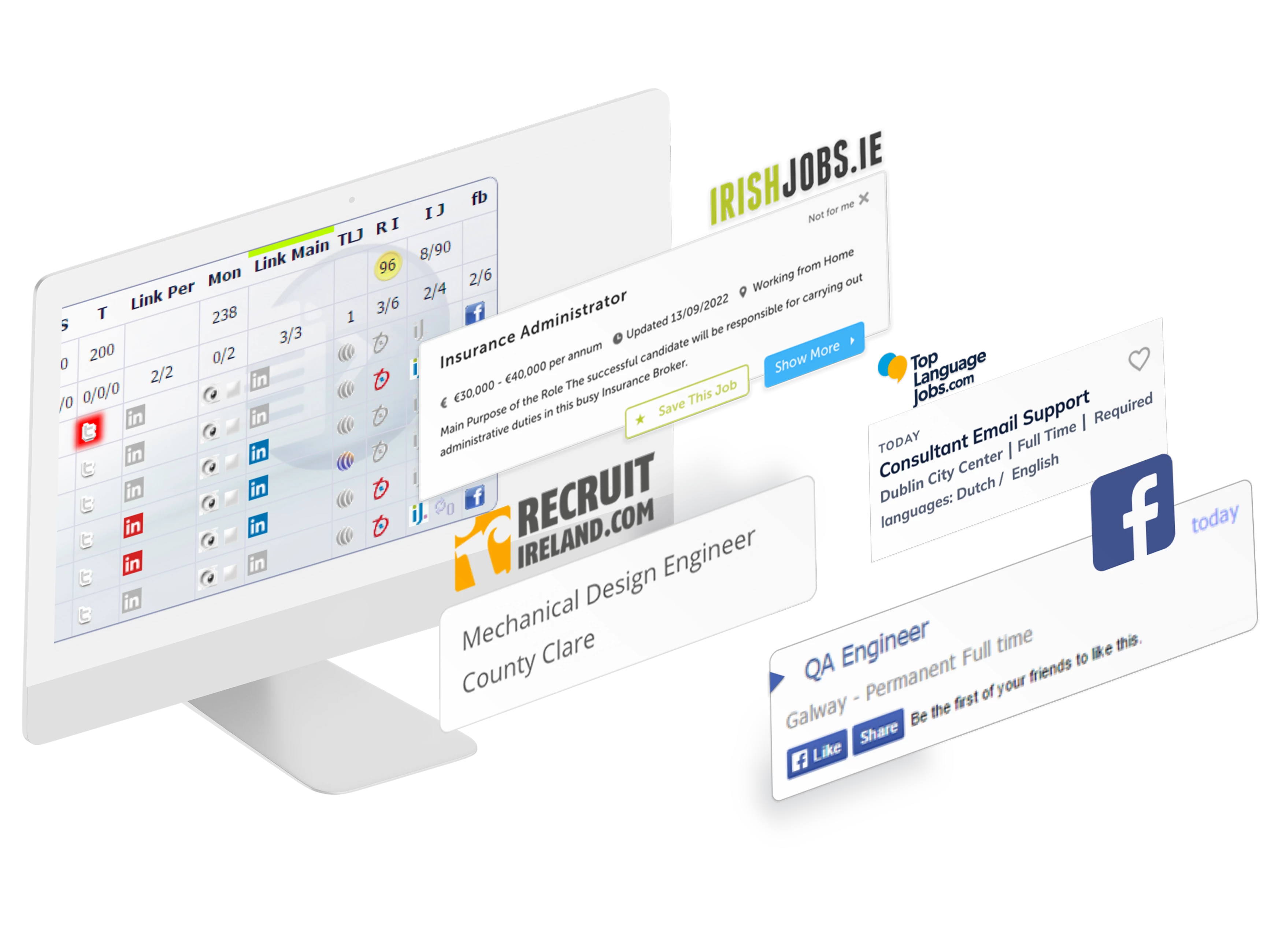 How API integration works
An API allows two or more systems to communicate with each other. Think of it as a shared meeting room (interface) that allows different programs the opportunity to talk to each other.
This means that our clients can have multiple systems that are being used on a day to day basis that need to be able to work together.

To get a better understanding of what this means, there are many levels of integration types
Integration types
YouRecruit has integrated with many third party services. Below is a selection of the options available to you.
Job board Multiposting
We can manage multiple job board API integrations with Job boards all over the world. Learn more in Job Board Multiposting 
Job import
For clients that are using internal databases or CRMs, Yourecruit already provides integrations with many systems.
Import Shifts API
Our dedicated API is available for existing clients. Through the API consultants can view shifts available and ultimately fill the positions.
Applicant tracking
This allows our clients to track application responses. The ATS also identifies the job category and vacant positions as well as consultants being able to review the job board performance.
Own site integration
We have integrated with many client websites. We have our own template that can be used for job posting described in more detail under Own Site Posting. We have also developed a WordPress Plugin. Or, if you have any existing API on your website, we can develop a connector to post jobs to your own existing platform – just contact us for more detail.
Payroll and invoicing
YouRecruit can accommodate many client payroll and invoicing requirements. You can choose to use our own invoicing facility or integrate with your own payroll and invoicing service. We are happy to help.
View your company Data API
API is available for existing clients. Contact us for more detail.

Compliance
We are already integrated with many third party services that allow our clients to confirm and monitor training and right to work requirements.
With compliance integrations in place, consultants can easily manage and confirm the status of their employees with regards to applicant competency and certification required for any advertised posts.
Some of the third party services include:
This includes NMC, NISCC, Healthier Business and Google Sheets.
Payroll exports
We already provide the facility to allow you to export your timesheet data to the Payroll system of your choice.  

"ICDS Group have been working closely with NestDesign for many years.
I am happy to say that at all times I have found NestDesign to be extremely accommodating and customer driven, very approachable, and keen to deliver solutions.
Technically they are excellent and yet can communicate clearly with clients who have a lesser technical understanding.
I have no hesitation in recommending the services of NestDesign to any client."
Anthony McLoughlin
Recruitment Director
ICDS Recruitment
"Implementing NestDesign's You Recruit software has proven to be an excellent business decision. The System is very simple to operate and is very user friendly. The Team were very quick to respond to queries, explained technical issues in straightforward, layman's terms and have been very helpful and accessible throughout the implementation process. Overall we are delighted with the software and the time saving it has allowed us to achieve."
Bernard Rooney
Director
Bond Search & Selection Ltd
'We have worked with YouRecruit.com for many years and have found their product and service to be excellent.
They have added many new features to their product in recent years and they add great value to our business.
The team at YouRecruit.com are flexible, cooperative and very responsive to any request or requirement for support - they have become a key partner to Hartley People Recruitment and we are delighted to endorse their product."
Fergal Hartley
Director
Hartley People
Free trial
If you would like to learn more about how YouRecruit can help you with your staff management or if you would like a free trial, just get in touch and tell us about your requirements.